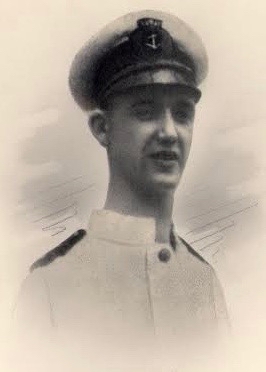 Edward Baker, the son of John and Catherine Baker,  was born in December, 1899, in Ellison Street, Old Swan, the second of seven children.  Over the next few years they lived in several homes,
Edward's father was active in the local church.  The family enjoyed music and it seems Edward along with his brother played the violin.
From 1911 they lived in Hodder Street in Everton and it was here in 1918 that this  mother died of influenza.
On leaving school he was a clerk, presumably on the docks.
In 1923  Edward married Doris Gertrude Baker, Dolly, at St Lawrence Kirkdale –with one of his brothers as best man.
The following year 1924 Eric was born
Edward decided to become a Marconi radio operation and trained at the Marconi school in Seaforth
By1927 he was a first radio officer with the Silver Line of London, a shipping line with about 20 small cargo ships, less than 5000 tons.  They were entirely on foreign service: the ships did not include UK ports of call. Its offices were in Chapel Street, Liverpool
He sailed with MV Silver Cedar 4,354 tons
In 1938 his family moved from Fazakerley to Ferney Bank, in Liverpool road close to the Royal Oak.
A married man with two sons at the outbreak of the war Edward was offered a shore job on account of his age, being nearly 40.  The offices were after all not far from his home, in Liverpool
However, Edward volunteered to stay on as a first radio officer with Merchant Navy.
On 5 October 1941 his ship, MV Silvercedar, sailed from New York to Manchester, carrying a cargo of heavy steel billets, a large amount of food and three Beaufighter planes secured on deck.
Edward was the first radio officer with his second radio officer  Thomas McDonough
They sailed to Nova Scotia to join 51 other ships assembling for convoy to Liverpool  Convoy SC 48
What didn't know that waiting at the Mid-Ocean Meeting Point
a 'Wolf Pack' of 8 German U-boats that was eventually to sink 11 of them without loss to themselves,
In the early hours of 15 October, the first ship to be attacked was MV Silvercedar
At 4.35 am, there was a terrible explosion as the ship was torpedoed on the starboard side, just forward of the engine room. Both starboard lifeboats had been destroyed by the explosion but the crew managed to launch one of the port boats and a raft.
She sank in seven minutes on an even keel.
The task of the radio officer was critical – to send out distress signal and position, essential if the crew was to be rescued. They had just these seven minutes between being hit by a torpedo and the ship going under the water
Radio officers had done their job because the 27 survivors were picked up within the hour, in the dark, by the MIMOSA, a Free French Corvette.
Sadly Edward along with his colleague Tom and another 19 men died
When the ship was overdue,  his family kept going to Chapel Street for news. Eventually they were finally told that he was missing presumed drowned but no death certificate was ever issued, causing real problems of entitlement for his family.
His wife, Doris, went grey overnight; she died in 1990.  At the time of his death his sons were his sons were 17 and 7.
The elder son entered submarine service against the protests of his mother.  Thankfully he survived the war even though he was torpedoed twice, in Atlantic and in Russian waters.
Doris continued to live in Liverpool Road.  She became one of the dinner ladies at Christ Church School along with Minnie her sister in law.
She died 1983.