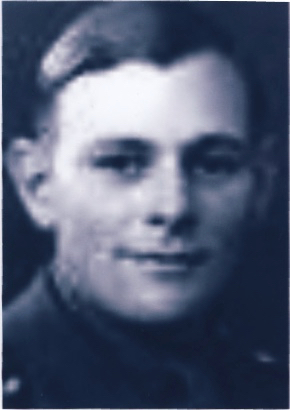 George Minto Blundell was the son to his second wife Ann Maria, born in November 1916 into a life of privilege and sadness.  His father was wealthy, a cotton broker who lived at Elderslie in Formby Lane, now known as High Wray.
His mother died the day after he was born, just 35 years old.  His second name Minto is a reference to her family.
George grew up at Elderslie, where there were butlers, maids, grooms, stable boys.
His father remarried, Ethel and they were to have two children – Mary and John. The family were members of Christ Church, Aughton – even though their family grave at St Michael's.  They joined the church choir while George and especially John were active in Christ Church scouts.
Tom Halsall, who for many years served as verger at Christ Church, can remember visiting Elderslie with some trepidation as a young member of the church choir.  Tom's Dad told him to be on his very best behaviour, to watch his Ps and Q's! And not to speak unless spoken to.
Sadly, when George was just 10, his father died in July, 1927, buried in the Blundell grave at St Michael's, Aughton.
Three years later George was sent to a public school in Derbyshire, to Repton.  His housemaster wrote that "during the whole of that time his conduct has been irreproachable.  He is a gentlemanly boy of high principles, greatly liked and respected by his fellows and by the staff; goes on to add – not an athlete…"
At school he decided that he wanted to become an architect because he enjoyed art, especially drawing.
Then in 1935 he went up to Christ Church Oxford, to read history.
While at Oxford  – as the prospect of war was looming – George joined the university army training corps,
Nevertheless he was still determined to be an architect and on leaving Oxford he attended the Liverpool University School of Architecture for 12 months before beginning employment as an architect.
By then war had broken out with Germany and George was called up.
In January 1940 he was commissioned as an officer into The King's Regiment a Liverpool regiment, – and then to the Army Air Corps, to serve in India, at Parshar.
In November 1942 George was transferred to 1st Parachute Battalion, training in Delhi. He then went out to Egypt where the 4th brigade was formed under General Hackett, where he became part of Battalion headquarter staff.  Because of his skill in drawing, George became an intelligence officer. He produced excellent maps, often drawn in a hurry – both clear and accurate
General Hackett's headquarter staff moved to the North Africa desert and then to Taranto before going inland into Italy, George being very much involved in the planning and execution of fast-moving campaign.
He was then returned to England for training – to cover the Normandy landings should his brigade be needed.
During this time he introduced one of his brother officers, James Clegg, to his step- sister, Mary.  They were to marry after the war, later to serve in the colonial service.
George was part of the Arnhem campaign in Holland.  He parachuted to the west of Arnhem on the second day of the campaign.  Already things were going very wrong and he dropped under fire.  Some close colleagues were killed as both parachutists and aircraft shot down.
In a couple of days things were getting desperate with the Battalion headquarters being just 200m from Hartenstein hotel at Oosterbeek, featured in the film Bridge too Far.
It must have been a difficult time for George, not a natural soldier, for during this time the Battalion had to fight off repeated and violent German attacks with everything they had at their disposal. Every man was needed for the defence,
"Brigadier Hackett did the job of any private soldier; he fired a rifle, lobbed grenades, and led the odd bayonet charge – it was a most unusual situation for a Brigade Commander to find himself in," observes the regimental records
General Hackett himself writes:  "I was impressed with the stout hearts and accurate grenade throwing of the Brigade Intelligence section, particularly after the Intelligence officer, Captain Blundell, was shot and killed at about 20 yards range.
George's body was later found by his brother-in-law to be, James Clegg, lying in a slit trench.  James himself became a prisoner of war.
James became a prisoner of war.
George was buried near where he fell at Oosterbeek war cemetery, Netherlands, aged 27.