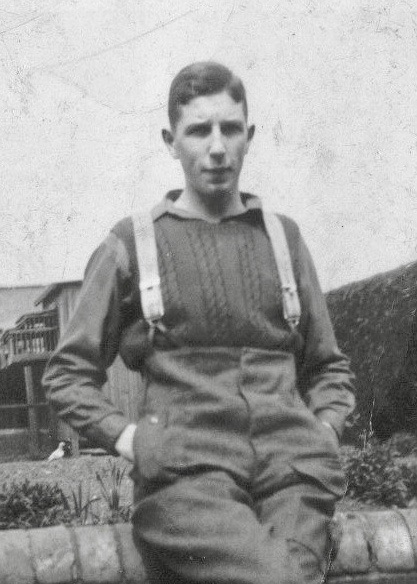 George Wright, born in 1923, was the son of the village policeman.  With his parents, Joseph and Elizabeth Wright lived in Church Hill villas in Liverpool Road.  They had two younger children.
George was a pupil at our church school and at Wigan Road School.
On leaving school he became an apprentice turner at Hesfords.  A tall man, some 6'2" George was known for his great of humour.
At the outbreak of the war George was 16 and he was "always talking about the RAF."  His father was in the Home Guard,  As soon as he could, once he turned 18 George naturally volunteered for the RAF, becoming an aircraftsman 1st class of Royal Air Force Volunteer Reserve.
He was initially stationed at RAF Odiham, allocated as ground crew to Bomber Command, number 18 Squadron
In 1942 the Squadron, equipped with the with the Blenheim light bomber,  moved to North Africa where it took up day bombing duties.  This meant using forward airfields which were frequently attacked.
The Allies managed to push Germans out of North Africa to Sicily, where the squadron began to use the Grebin Airfield captured from Germans.
However, the squadron had had a tough time and so on 25 September it was stood down from operations until further notice.
Reequipped with new American Boston bombers, the crews started formation flying training.  This meant learning to fly these new aircraft in groups of three.
However, on the second day of training there was a collision between two aircraft as they prepared to land.   One just managed to land safely but the other Boston
crashed just off the aerodrome and all the occupants, the pilot, the gunner along with George were killed.
We assume that George, although usually ground crew,  was with the plane in order to test the new instruments.
He, aged just 20, was buried close to where he fell, in Catania, in Sicily.
Parents died within six months of each other in 1956 and are buried in our church yard.