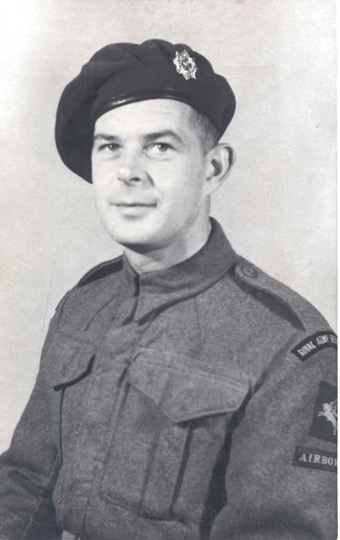 Harry Davies was well known in Ormskirk from his travelling shop, selling bread and groceries.  Born in Lathom, he lived with his parents and brothers in Burscough Street.  On leaving school he started work in a shop in Ormskirk before starting his own business.
He married Amy Scarisbrick, the daughter of the publican of the Dog and Gun in Long Lane, at Christ Church in March 1940, the very day of his medical for the army!   As you would imagine, they held their reception at the Dog and Gun.
The following month, April 1940, Harry enlisted in the Royal Army Service Corps as a mechanic. No sooner had he enlisted that he helped
receive evacuees from Dunkirk.
In 1941 Harry transferred to the 1st Air Landing Brigade (gliders) and was away for two years in North Africa, where he was trained to land in glider with vehicle.   There he was promoted to lance corporal.
For much of the next three and a half years Harry was away but he did arrive home at the Dog and Gun totally unexpectedly on Christmas Day, 1943.  At it happened he met fellow paratrooper Joe Mawdsley– one going on, other returning from leave.
As a member of the Para brigade Harry was not involved on D Day but he was involved with Market Garden in September 1944, the attempt to take the bridges over the Rhine including Arnhem.  Before embarking he was given 24 hours leave and so he was able to spend just a few short hours with his wife.
Harry landed on 18 September, the second day of the operation, landing to the west of the bridge in a glider along with his vehicle – but his company never managed to break through.
On 22 September, as the battle for Arnhem went against the allies, his platoon found themselves isolated in a thicket.  His sergeant went out to find the way back to Allied Lines but was critically injured.  Harry volunteered to rescue him but was badly wounded by shrapnel from an exploding shell.   He was retrieved by medical orderlies but died soon after from his wounds.
However, Harry was reported missing, believed wounded and a prisoner of war.  Amy continued her husband's business, trying to find out the location of her husband.  Sadly she was finally informed on 11 October 1945 that he was presumed dead, aged 29 years.
Harry is buried in the Arnhem Oosterbeek War Cemetery along with another Aughton man, George Minto Blundell.  His widow remarried, another paratrooper and lived in Hallmoor Close until she died 2006.