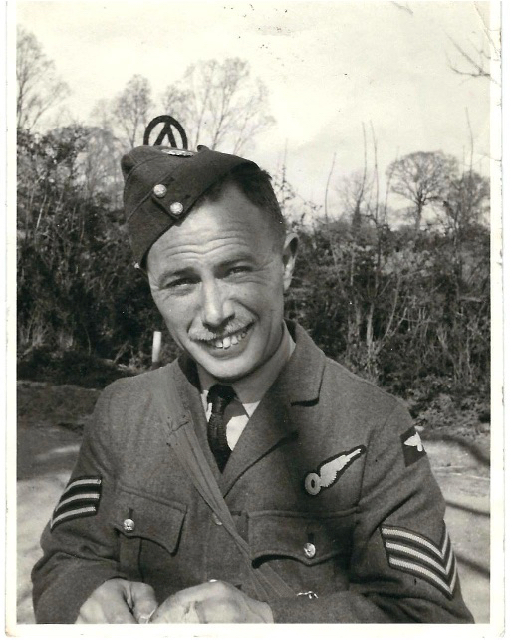 John Richard Davies Jones was the son of Hugh and Harriet Jones.
John was born in 1912 at Mossley Hill,  south Liverpool to Welsh parents
Hugh and Harriet Jones, one of four children.  As a family they were active members of Elm Hall Drive Methodist church, where his father Hugh was a deacon.
A keen footballer, John went to Quarry Bank school and on leaving school he went to work at an accountancy firm in Liverpool.
Along with his good friend Jim Cotter, John ran the church youth club where he met Gaynor who was not only Welsh but came from the same part of Wales as John's family.
As war approached Gaynor with her family moved from Mossley Hill
to Aughton, to  Liverpool road, opposite the Royal Oak.
John was 27 when war broke out in 1939 and against the wishes of his mother he wanted to join up. Once he checked that he could take his final accountancy exams after the war, he volunteered for the Lancashire Yeomanry and was stationed at Pembroke Dock at the far end of south Wales.
He was there when in July 1940 he and Gaynor were married.  Following the service John and Gaynor went to Liverpool by train but because he only had a day pass, arrived at Lime street and immediately took same train back to Pembroke Dock
While at Pembroke Dock , John made another big decision, to volunteer for the RAF where he was trained to became navigator/bomb aimer in Bomber command.  Allocated to 21 Squadron he was based at various airfields in east England.  Gaynor took nearby rented accommodation to be near her husband
To begin with the Squadron had few operations – there were not enough planes.  Then in May 1942 the squadron was issued with American planes,  Lockheed Ventura known as "the Flying Pig".  Not an easy plane to fly
That September the squadron moved to two adjoining airfields in Norfolk,
RAF Feltwell and RAF Methwold, just five miles apart.
Then followed some difficult raids in Holland, In November 1942 his plane ditched – that's all we know.
Then on 6 December the squadron had a breakthrough, a raid on the Phillips factory in Holland put key parts of the factory out of action.  This was deemed a success, even though 9 of the 47 bombers were shot down by German fighters.
In fact, the Crown Film Unit arrived at Feltwell to make a short film about the Phillips raid.
Some  the aircraft which returned to had sustained damage and so needed repair; other planes  needed servicing
John was ready for some leave – Gaynor was now pregnant
Then on Thursday 10 December John joined a short flight from Methwold to Feltwell for servicing.  The crew took a few passengers along with the crew including "Jock" Rutterford who went to pick up his new boots from the stores.
The pilot was F/Sgt Garnet H. Turcotte, American from Detroit flying with Canadian Air force.  An exceptional pilot, Turcotte had just been promoted to Warrant Officer.
The plane was due to return to Methwold late morning.  Two men were going to have a lift to go back to Methwold but they gave up waiting and cycled there instead.  When they arrived back at Methwold they were watching the plane approaching the airfield when suddenly it dived out of view.  There was an explosion and a ball of fire rose into the air.
One of those two men who decided to cycle said to the other "It's lucky that there's only one person on board."  "No" said the other.  "It's full."  Six men were killed, including John
Jock's boots survived the crash but sadly Jock, like everyone on the plane perished.  This was just a terrible accident and it was never fully explained.
Along with John the young American pilot and one aircrew were buried in the local churchyard at St Nicholas Feltwell
Gaynor now pregnant went to back to Liverpool Road and four months later in April 1943 gave birth to a daughter, Bronwen Davies (named after her father)
Today each member of Gaynor's family has Davies in their name as a tribute to their father, grandfather and great-grandfather.