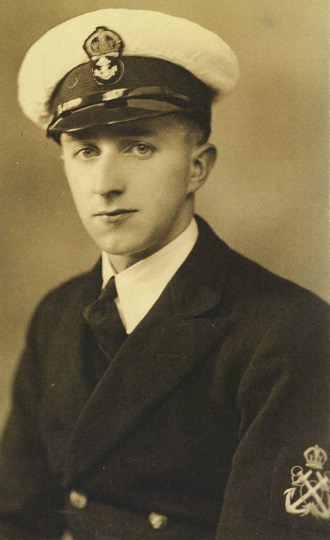 Ronald Corf, the son of the local postman, lived along with his sister Mildred and brother Wilfred in Winifred cottages, Moss Delph Lane.  He attended Christ Church School and Ormskirk Grammar School.   An active member of St John ambulance in Ormskirk, he was known for his sense of humour.
On leaving school he became an apprentice fitter and turner at Cammell Lairds but at the outbreak of the war, he volunteered for royal navy, becoming an engine room artificer
In March, 1940 Ronnie was assigned to Royal navy cruiser HMS Orion in which he saw action in Mediterranean.
In May 1941 Crete taken by German parachutists and there was an urgent need to evacuation 16,000 troops from the island.
This was a highly dangerous operation with HMS Orion carrying 1000 troops aboard when she left for Alexandria in Egypt.
The ship was soon attacked by diver bombers,  One member of the crew recalled: "It was hell. Our ship was hit twice. One shell fell through six decks before exploding. By the time we reached safety, 260 on board were dead and another 300 injured.
"We were attacked by high level bombers and Stuka dive bombers which came streaking out of the sun. Ammunition parties dashed to and from the hoists to keep up with the never ending demand. Then the Orion was hit. Our A turret was blown to bits and the gun barrels of the B turret were bent upwards by the force of the explosion.
"The captain was hit and died soon afterwards. Then, at 10am, a single Stuka streaked out of the sun. It was too quick for the gunners to take aim. Then a flash, a sudden black out and an eerie silence as all machinery stopped told its own story. An armour-piercing bomb had penetrated the bridge, passing through every deck below and exploded in the 4in magazine not far from where I was ferrying cordite."
A total of 112 sailors were killed, along with 150 soldiers, when the ship was bombed in one of the most heroic rescue operations of the Second World War.
Ronnie badly injured and when the ship finally arrived at Alexandria, badly damaged, he was immediately taken to the casualty clearing station on the jetty.  There he died – aged 29 years.
His brother Wilfred soon afterwards had a baby, a boy who was named in honour of his fallen brother, Ronald John.  Ron now lives in south Liverpool.